Welcome to Windsong Shih Tzu
Where our puppies make your family complete
Windsong Shih Tzu maintains a small breeding program in an effort to assure quality, not quantity, in the puppies we produce. Our dogs and puppies are family raised in a clean, healthy environment and are "pre-spoiled" before being sold. We offer an extensive written guarantee against genetic health problems as well as terms and conditions that protect our puppies and their new family. Our dogs are tested for several genetic health issues, including kidney and liver function, to perpetuate a quality breeding program. We breed from top champion bloodlines and the health, temperament, and beauty of our puppies sets us apart from others.
The best part of what we do is adding joy to the heart and big smiles on the faces of our new puppy families. We love to see pictures and hear stories about our girls and boys in their new homes.
Let us help make your family complete with a Windsong Shih Tzu!
The Windsong Family
Windsong Shih Tzu has been producing top quality puppies for over 30 years. Our puppies live as far as the west coast and every place in between.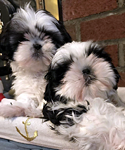 Many Windsong family members have traveled to us multiple times through the years to add to their families. While we do not ship our precious pups, we welcome you to travel to us for your next best family member.